Iraq - During the summer of 2003, immediately following the initial coalition assault on Iraq, there was a period of relative peace. Still, it was a difficult time for Iraqis. The damage from the initial invasion caused shortages of food and water, a lack of safety and stability, substandard medical care, and an uncertainty of what the future might hold.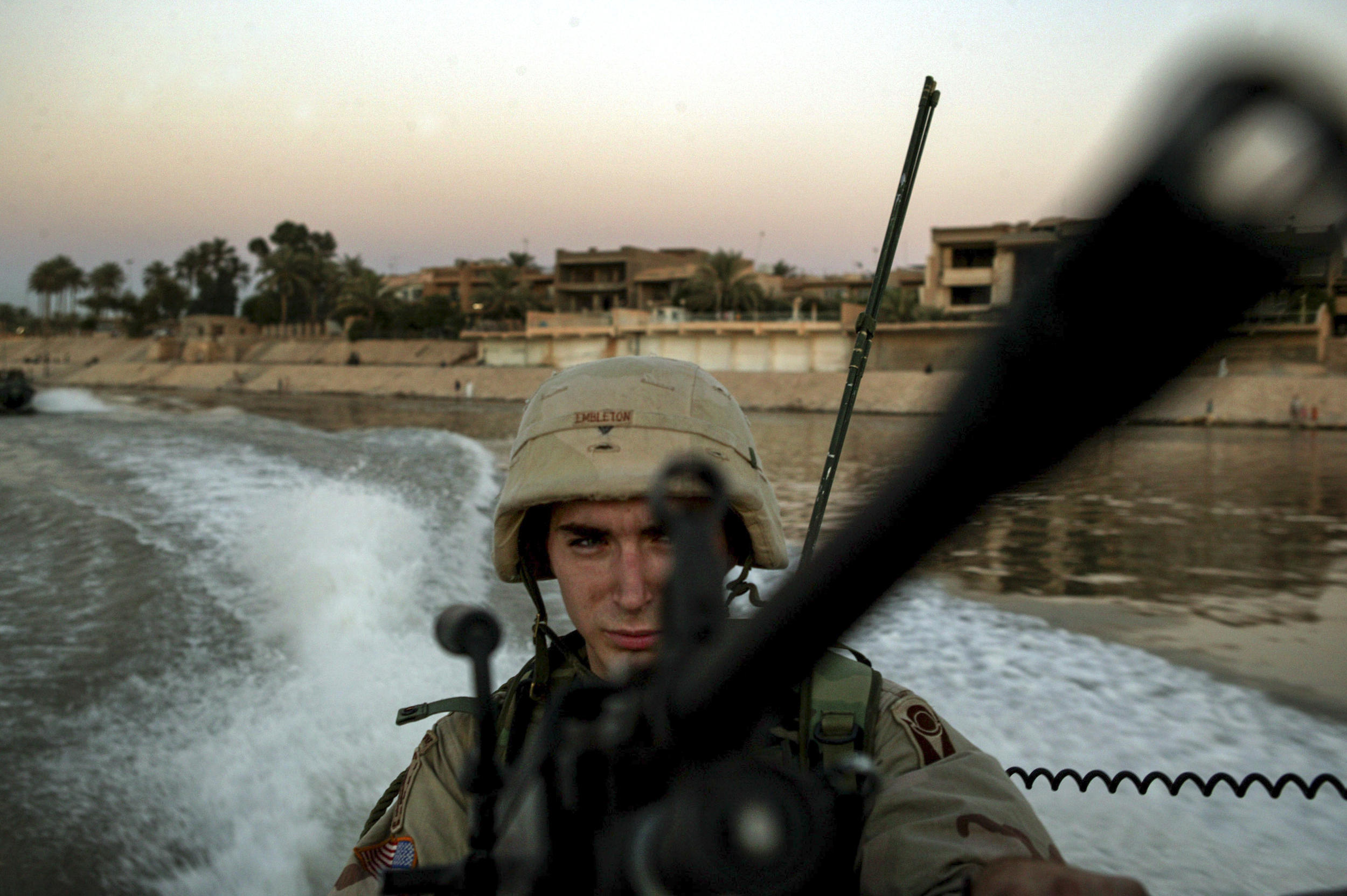 Alpha Company's David Embelton with the 3rd Battalion 124 Infantry keeps an eye on the waters during a boat patrol of the Tigris river.
The city of Baghdad seen through the shattered window of the Tourism Tower that was bombed and looted during the war.
After Sadam Hussein's regime fell, Sadai Ali Khairalah's family was forced out of their home by Iraqi Iranians returning to reclaim their property after a period of exile.
Children playing on a Baghdad rooftop.
An Iraqi couple on their wedding night.
Members of a theater group backstage before a performance.
US soldiers entered a house to search for reported rocket propelled grenades (RPGs). After the raid, which turned up no weapons, the military realized they had entered the wrong house.
A father prays for his son in their hospital room.
Abbas Fadhill, 18, was hit by American fire on June 14, 2003 in the town of Samara while shopping at an outdoor market. He was caught in the crossfire when American soldiers returned fire on a group of Iraqi insurgents. The bullet that struck Fadhill left him paralyzed below the waist. In pain from his recent wounds, Abbas receives his first wash by medical personnel.
Haider Hatlef, 21, was wounded by a U.S. cluster bomb as American forces attacked the town of Najaf, located 200 kilometers south of Baghdad. He was shopping for tomatoes. As a result of his injuries, Haider is now a paraplegic. He is also suffering from severe bedsores which were caused by a lack of treatment.
A young boy severely injured while playing with unexploded ammunition is tended to by doctor Muhammad Ali Saad. The boys father watches.
In the scorching heat of the Baghdad summer where temperatures easily reached 130 fahrenheit, the price of ice skyrocketed. With the lack of electricity, overwhelming numbers of Iraqis in the capital city of Baghdad were dependent on ice factories producing this valuable product - frozen water.
Iraqis in a Baghdad jail cell. A wide array of criminals with offenses ranging from petty theft to more series offenses such as murder were jailed together.
American soldiers detain an Iraqi for questioning.